Below are testimonials and reviews from PGA, LPGA and Senior PGA Tour Pros, PGA Professional Instructors, Avid Amateurs, Men, Women, Seniors, Junior Coaches, Professional Club Makers, and Golf Shop Owners, all hitting the exact same shaft -- the NUNCHUK® Precision Shaft.
If you read them closely, you are bound to find someone just like you.
CLICK HERE to read the lastest NEWS & MEDIA REVIEWS.
We would enjoy hearing about your experiences using the NUNCHUK®. To submit a testimonial or personal review, please click the following link: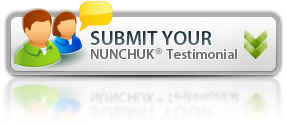 Bruce Devlin | 9 Time PGA/Senior PGA Tour Winner

"There is no doubt in my mind that if you use the 'NUNCHUK' shaft, you will hit the ball straighter. It is the most stable shaft at impact that I have ever used."

Jhonattan Vegas | PGA Tour Member

"As a long hitter this is the first time that I have found a shaft that I totally love and that I can swing the way I like it, with a lot of power. It works great and It is helping me be one of the longest and straightest hitters on the Nationwide."
Josh Lower | Professional Golfer

"I think people are starting to notice what I am playing because of the tight shot dispersion and distance. One thing I have noticed is a much more consistent launch angle and ball spin rate. I think it is the next big thing in golf and I am happy that I was able to discover it at the PGA Show."

"When people look at the name of the shaft I am playing they raise their eyebrows but after I hit it they ask.... how long do you usually hit it?....where did you get that shaft?... or they ask is that a tour head, that ball is really jumping off the face... I just smile and say nope just the normal head with a bigger engine.... " My favorite is when I hit my three wood right next to them and they think I hit driver........Guess you didn't catch that drive huh? Nope I hit three wood."
J. Lynn "Doc" Griffin | Swing Surgeon Director of Club Fitting International Top 100 Master Fitter Doc Griffin's GOLF STOP, Columbia, SC

"I was skeptical at first and still so after the first few swings but then a transformation took place and this shaft is incredibly accurate and long. Can't wait to try it out on some of the tour pros that I work with! I'm sold. It's also going in my woods and hybrids.."
Glenn Coomb | "The Putting Doctor"

"With little range time I put the new shaft into play before the PGA Show having not played since October. I can say without reservation that this is the next great thing for your game. I missed just one fairway all day! My shot dispersion is way tighter and my distance is improved. I can't wait to put this shaft into my hybrids. Get a Nunchuk today!"
Brendan Muldoon | CEO Elmer Golf US
www.elmergolf.com

"The drivers shafted with the Nunchuk are working seriously well with players of all swing speeds . I shafted the hybrids and the 16* with this shaft has made our best performing hybrid even better - it has gone from #3 iron distance to #3 wood distance. It really is nice to be able to really go after a shot with everything you've got and still see it go straight. With the 22*, my first shot was on a Par 3, 175 yard hole into a 22mph wind. I lost sight of the ball and was about to give up on finding the ball again as I was holding up the guys behind us - you guessed - it was in the hole! So yes, I like this shaft in this club!!!""
Greg Lee | PGA Professional
Chicopee Woods GC - Gainesville, Georgia

"After 2 years of frustration due to missed fairways and penalty strokes, the Nunchuk has got me contending for every event again. I don't fully understand why, but even the swings that feel a little wrong go long and straight. The face just stays square through impact and the distance is always there."
Alison Meyer | Duramed Futures Tour Player

"The Nunchuk has a distinctively solid feel rather than the whip-like feel of nearly all other shafts."
Bryan Wood | Austin, TX

"I recently had the Nunchuk put into my Titleist 910D3. WOW! That is about all I can say about the Nunchuk shaft so far. As a high spin player, I have always fought a spinny ball flight – especially with the driver. Playing golf in the Texas prevailing winds (with a high spin ball flight) can make it very tough.

After making a few swings on the range (and one loft and lie adjustment) my driver instantly became a rocket with the Nunchuk shaft. I immediately saw a lower spin ball flight with the ideal launch numbers and the trajectory that I have been looking for. The Nunchuk out performs the previous high-end shaft that I had in my driver before.

My dispersion is over all way tighter and I now have a trajectory and spin rate, that can't be beat in the Texas winds. My carry distance is 15-20 yards longer now with a 4mph faster ball speed - according to flight scope. The best part about the Nunchuk - is that I can just swing away. I do not have to worry about the wind, timing the shaft at impact, etc… the Nunchuk just terminates these thoughts for me. I have never hit as many straight, long and consistent balls off the tee, with any other shaft on the market. Bring on the Hybrid shaft - I can hardly wait!
Sean Cain | PGA Head Golf Professional
The Legends @ Chateau Elan

"Just wanted to let you know the shafts are awesome. My shot dispersion seems to be cut almost in half with the Nunchuk shaft. What a wonderful product."
Sandra Eriksson | 1999 LPGA Professional of the Year, Dir. of Instruction Delray Beach Golf Club

"Nunchuk ....straighter, longer, 25 yards more roll...it's a keeper."
Matt Glenn | Coach of 6 Texas High School State Championship Teams

"An extraordinary shaft. It works well at any club head speed. Iíve seen it improve the game for several juniors playing the shaft."
Gene "The Machine" Wines | Owner/Operator of Wines Golf Company - Houston, TX

"OH....My....Gosh...I have been in this club making business for over twenty years, I have seen a lot of new ideas. shafts, etc. The Nunchuk... I could feel it immediately. No bending, no drooping, solid feel. GREAT FEEL. Hurricane Alex, could not hold me back.

I am almost 78 years old, that driver exploded, in the first swing. I put some impact stickers on the face to check ball strike locations. Dead Center, NO EFFORT at all. Toe hits drawed, like it was programmed. Amazing. Seniors will love this shaft. Fitting was very easy. You are right when you say, "Take AIM and Swing it". Awesome. Love my new Nunchuk.."
Eddie Maxwell | Owner/Operator of
B&E Custom Golf

"The Holy Grail for golf shafts has finally been discovered."
Chris Convey | Assistant Golf Professional, Bretton Woods Recreation Cntr, Germantown, MD

"Finally have played a few rounds with the Nunchuk and am quite happy with the results. ... Shaft feels super stable. Not much side spin imparted even on heel or toe hits. Shots well struck fly on a great trajectory with low spin. As soon as the ground firms up I'm sure to enjoy the extra roll!"
Sarah Nicholson | PGA Class A Professional

"I personally play the Nunchuk shaft because it has improved my game. My students who have played the shaft have seen increased distance and control. I know the shaft can improve your game, too."


[ VIDEO ]
John "J.T." McClellan | PGA Assistant Pro
The Harvester Golf Club, Rhodes, IA

"I think the Nunchuk is the best shaft avaible today! Since I installed it into my driver I have won 2 long drive contests and have averaged 76% fairways hit from the tee box. Once you get used to the one piece feel you won't have to switch to a new shaft ever again. I sugguest you put this engine in your Driver and Fairway woods today, you will not be disappointed."
Doug Stiles | Athens, GA

"The driver was, by far, the most consistent driver I've ever hit!"
Lane Holt | Bogart, GA

"From my perspective the bar has been raised in golf shaft technology. I noticed immediately that my drives with the Nunchuk were straighter, and more solid. This is sure to be a spoiler in the golf industry!"
William Rhea | Grapevine, TX

"My Nunchuck shaft on my Driver is the best shaft I have ever had. Am looking forward to having it on all clubs!"
David Silverman | Menlo Park, CA

"Today, Clint and Leith at the Golf Lab in Palo Alto, CA put a Nunchuk shaft in my driver. I was intrigued by the notion that a 5'6", 65 year old man, with a moderate swing speed, could hit a monster ( by conventional specs and standards) shaft like the Nunchuk. I was a bit worried that it would be too much shaft for me and that I would never launch the ball. It is incredible! It is the only shaft I have ever hit where the notions of weight, torque and kick point suddenly are irrelevant. The shaft becomes part of your body."
Cody Vaughn | PGA Professional / Instructor

"Got the shafts in on Thursday; was put into my R11 on Friday and the shaft was great. It was so good two of my Assistant Golf Professionals put them in their drivers, as well as, a friend who will tee one up in the next Nationwide tournament in Georgia.!"