The Nunchuk 370 Precision Hybrid Shaft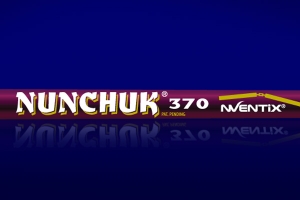 Product ID : N370
Manufacturer: nVentix Golf
Purchase
The selected item is out of stock, please select a different item or combination
Description
All the benefits of the original NUNCHUK® Precision Shaft now available in a Hybrid Shaft
With its Tri-Zonal Stability™ (TZS) technology, golfers will experience unparalleled consistency, accuracy and performance.
Launched in 2012, the NUNCHUK 370 Precision Shaft for hybrid clubs delivers unmatched performance and accuracy for those long shots into the green. The NUNCHUK 370 utilizes the same Tour-proven NUNCHUK Tri-Zonal Stability (TZS) design as the original NUNCHUK.
TZS incorporates three segments, or zones, where each segment is specifically designed and constructed to control problems with twist, flex and droop found in other shaft designs. The NUNCHUK TZS design helps the golfer by making it easier to hit the sweet spot, with the clubface aligned with the intended ball flight, time and time again ... better performance, better accuracy!
NUNCHUK's have been proudly played by more than 60 PGA Tour players and in-the-bag of multiple winners and involved in many Top 10 Finishes and millions of dollars in winnings.
Key Attributes of the NUNCHUK 370 Precision Hybrid Shaft
Unmatched Accuracy for long and accurate shots into the green. Reduces spin and shot dispersion, for those long shots into the green or tight layup shots
"One-piece" Feeling – Improved stability creates the feeling of the club-head, shaft and golfer working in harmony
Designed to improve player performance by minimizing detrimental effects of shaft twist, droop and flex. Especially, the unwanted hybrid shot going left for the better player
Engineered to be played by the full range of swing speeds - No need for multiple flexes (see below)
Available in .370" Tip.
THE NUNCHUK SYSTEM: Now golfers have the opportunity to put precision NUNCHUKs in ALL their clubs for identical feel, function & bio-feedback.
Build CONFIDENCE: Just aim and swing!
Shaft
Parameters

NUNCHUK 370 Precision Hybrid Shaft
Specifications

Flex

One size fits all swing speeds and types

Torque

2.8 Degrees

Weight

106 Grams

Length

42 Inch blank

Tip OD

.370" Parallel Tip

Butt OD

.611"
NUNCHUK 370 Product Video:
NUNCHUK Precision Shafts Overview Video: 3 Reasons to Play Nunchuk Shafts
Products You May Like
| | |
| --- | --- |
| | $225.00 |




Played by 2-time major champion John Daly and over 60 PGA Tour pros, Nunchuk precision golf shafts have multiple PGA Tour victories and numerous Top-5 PGA Tour finishes. CLICK IMAGE OR LINK ABOVE FOR MORE INFO.
| | |
| --- | --- |
| | $55.00 |




With Better than Steel Performance: Consistency, Accuracy, Distance Control, and Feel The NUNCHUK xi Precision Graphite Shaft for Irons brings tour-proven NUNCHUK Tri-Zonal Stability precision technology to irons and wedges. CLICK IMAGE OR LINK ABOVE FOR MORE INFO.